2015 China International Locks and Security Products Exhibition is the world's second largest hardware exhibition - China International Hardware Exhibition's special exhibition, will be held in the National Convention and Exhibition Center (Shanghai) on October 21-23, 2015. The exhibition is positioned in "internationalization, domestic demand market development, technology orientation and brand promotion" to create a "barometer" for the locks and security industry market, and a "wind vane" for industry development. Provide new excellent locks, security product authority publishing platform; to force foreign trade and domestic demand two major markets; share China International Hardware Exhibition hundreds of thousands of member buyers resources and more than ten years of global influence.
The "Lock Tradelink Installation After-sales App" jointly developed by "Modern Lock Industry" and "Chinese Locksmith" was launched at the same time. At the invitation of China National Hardware Association, it will host the first summit forum in Shanghai with the theme of "locking installation and after-sales service docking". The conference will focus on the development of lock business e-commerce in the era of Internet +, how to solve the online sales bottleneck of locks by means of e-commerce, landing installation and after-sales. At that time, the conference will invite leaders of industry associations, lock manufacturers, leaders of after-sales service departments, and locksmiths to gather together to discuss industry development.
I. Date of the meeting: October 21, 2015 (1:00-5:00 pm)
2. Venue: National Convention Center (Shanghai)
Third, the conference theme:
1. Internet + lock industry e-commerce seminar
2. Network marketing plan
3. Unlocking industry and locksmith development
4, lock installation after-sales forum and lock trade news APP press conference
5. Locking Trade Partner Strategic Partner Signing Ceremony
6, "China Lock Security Innovation Design Award" brand display recommended activities
7. Visit 15 China International Hardware Exhibition and China International Locks Exhibition
4. Participants: Association leaders, lock manufacturers, locksmiths, media reporters, a total of 200 people
V. Participation method: Free registration, lunch
VI. Cooperative recruitment: 1. The keynote speakers, some participating lock manufacturers can carry out free publicity and promotion in the new product exhibition area. 2. Recommended for news media resources.
Chengdu Lock Trade Electronic Commerce Co., Ltd.
Address: Room 1604, Fulin Building, No. 388 Shuanglin Road, Chenghua District, Chengdu, Sichuan, China
telephone / fax)
QQ
Prednisolone Basic Information
Prednisolone is a kind of sterol, which can prevent the release of inflammatory substances in the body.
Prednisolone is used to treat many different kinds of inflammation, such as arthritis, lupus, psoriasis, ulcerative colitis, allergic diseases, gland (endocrine) diseases, and diseases affecting skin, eyes, lungs, stomach, nervous system or blood cells.
CAS:
50-24-8
MF:
C21H28O5
MW:
360.44
EINECS:
200-021-7
Mol File: 50-24-8.mol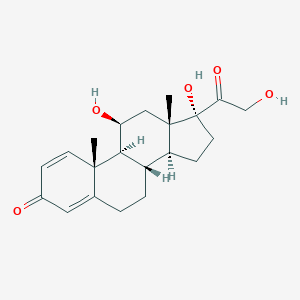 Prednisolone Chemical Properties
Melting point
240 °C (dec.)(lit.)
Boiling point
412.46°C (rough estimate)
Density
1.0963 (rough estimate)
Storage temp.
-20°C Freezer
prednisolone 10 mg,prednisolone 5mg,prednisolone sodium phosphate,prednisolone acetate,prednisolone injection,prednisolone 40 mg
Jinan Forever Chemical Co., Ltd. , https://www.jinanforever.com