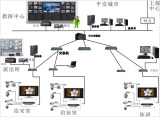 At present, what is commonly seen in buses is the on-board monitoring system. The entire system is divided into front-end vehicle-mounted monitoring systems, communication lines, and monitoring platforms. Front-end vehicle-mounted monitoring systems also include on-board DVRs, surveillance cameras, monitor heads, alarm buttons, and alarm flashing lights. , LCD screen, intercom headset, GPS and other communication lines include front-end mobile transmission (EDGE/CDMA1X) and background command center Ethernet network monitoring platform including monitoring software and GIS, streaming media, database, application server and a series of service groups. It is possible to build a multi-polar monitoring platform in public transport sub-bureaus, municipal public security bureaus, police stations and other units as required. The logical relationship of levels can be flexibly configured according to requirements, and the system has good scalability.
In addition, the accessibility of vehicles and personnel at bus parking lots is complex, and the management of safety precautions at the station has become a major problem that plagues public transport supervisors. Bus entrance and exit management systems are also applied everywhere. The management system of bus entrances and exits consists of a number of subsystems, each of which communicates data through an agreed protocol. The collected information is aggregated into the bus station supervision platform for unified management. It also includes RFID entrance system, HD bayonet system, RFID time attendance system and so on.
The most commonly used bus system is the bus card system, which is the IC card that we usually use. It is sub-contact and non-contact, non-contact is the mainstream of today and later. The non-contact IC card is a radio frequency (RFID) card, and the data exchange between the data storage carrier and the card reading device is accomplished through electromagnetic field coupling or microwave transmission. The bus card has become an indispensable part of our lives. According to statistics, as of May 2011, Beijing has issued about 40 million public transportation cards.
In addition to this there are many security products widely used in public transportation systems to ensure that people travel safely on a daily basis.
As an important part of urban public transport, the public transport system is the most important part of urban security construction. The state strongly supports the development of public transportation, which is not only for the development of the people's livelihood, but also the development of public transportation is beneficial to the development of a series of enterprises such as bus manufacturers, supporting manufacturers, infrastructure, and even intelligent transportation in the future. As an integral part of public transportation, security will also be bound to welcome new development opportunities as the country vigorously supports the development of public transportation.
Azithromycin is manufactured by CSPC OUYI which is the main API product in CSPC OUYI which is the largest azithromycin manufacturer in China with capacity of 600MT per year. The product can meet CP, EP, USP,BP and is qualified by China FDA, US FDA, EDQM, WHO PQ, Indian DCGI, Russia FDA etc and is sold into domestic market and exported into all over the world such as Asia, America, EU, etc. CSPC OUYI is qualified supplier to many world-famous Pharma Groups. Its package is 25kg/fiber drum which can be suitable for domestic and overseas shipment. The azithromycin plant was accepted by all the foreign customers and institutions as most modern API plant. And there is dedicated space in azithromycin plant to micronize the product to meet the different particle size demand from the different customers.
Macrolides Antibiotics Raw Material
CSPC Pharmaceutical Group Limited , http://www.cspcgroup.com